myStocks | Quotes, Research, Analysis, Portfolio Valuation, News, Nairobi Securities Exchange

| | | |
| --- | --- | --- |
| | | |
Corporate Actions Outlook
MyStocks Exclusive
•
Get the most out of myStocks by subscribing
•
Enjoy upto 7.5% discount on annual subscriptions
•
Real-time NSE Market Viewer
•
Level 2 market depth data
•
Historical charts & data
•
Sortable columns
•
Customizable views
•
Independent analysts' research
•
Company financials, ratios and fundamentals
•
Technical analysis trends and signals
| | | | |
| --- | --- | --- | --- |
| Feature Matrix | Standard | PRO | Corporate |
| Realtime quotes | | | |
| Level 2 market data | | | |
| Intraday charts | | | |
| Historic charts | | | |
| Financials & ratios | | | |
| Technical analysis | | | |
| Raw data download | | | |
Nairobi Securities Exchange Highlights —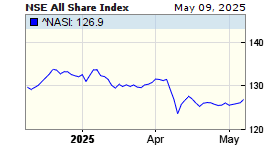 New Vision
Britam weighs move to cross-list...
BRITAM top executives have signaled the likelihood of the company cross-listing on the Ugandan share markets following new regulatory requirements for separate life and general insurance licenses. A definite date has not been set though. Benson Wairegi
...
Britam's growth plan holds dividend slice
The Star
Britam profit up 12pc, driven by good returns
The Standard Digital News
Britam records rise in 2013 profit to Sh3.2bn
Capital FM Kenya
Businessweek
-
Independent
-
Reuters

Business Recorder
Posted by Shoaib-ur-Rehman Siddiqui
Eric Musau, a research analyst at Standard Investment Bank, said investors were concerned by the likely impact of an impending move to digital broadcasting from analogue. "There is that concern in regards to their profitability and whether the main
...
Khartoum: really out of the terrorism business?
[Bin Laden's] businesses were not just focused on the bottom line, U.S. prosecutors [in the Tanzania and Kenya embassies bombing trial] say. In one transaction, a bin Laden company sent sugar from Sudan to
...
Shaykh Sai'id [Mustafa Muhammad Ahmad
...
Professional investment tools custom tailored for you
Market data is the basis of any investment decision. Accurate and timely data is more valuable for the investor. Modern-day investors require more information than ever in order to make key investment decisions. Systems must respond rapidly with a flexible and robust infrastructure.
myStocks provides professionally compiled real-time price quotes and level 2 market depth data services for the Nairobi Securities Exchange. Our revolutionary real-time data analysis platform, never before seen in the Kenyan financial market, comprises pre-trade analysis, post-trade decision support, historical data analysis, market fundamentals and aggregated breaking news streams
Real-time data by
Synergy Systems Ltd
, Licensed Data Vendor of the Nairobi Securities Exchange.
Copyright © 2007-14,
Synergy Systems Ltd
. All Rights Reserved.
6
th
Floor, Phoenix House, Kenyatta Avenue.
P. O. Box 5820 - 00100 (GPO), Nairobi.
Tel:
+254 20 2113163