myStocks | Quotes, Research, Analysis, Portfolio Valuation, News, Nairobi Securities Exchange

| | | |
| --- | --- | --- |
| | | |
Corporate Actions Outlook
SCBK payment, interim dividend of 4.50
Dec 19 2014
KPLC books close, final dividend of 0.30
Dec 19 2014
SASN announced, final dividend of 0.25
Dec 19 2014
KEGN books close, final dividend of 0.40
Dec 16 2014
CABL payment, interim dividend of 0.50
Dec 15 2014
SCOM payment, dividend of 0.47
Dec 15 2014
SCBK books close, interim dividend of 4.50
Dec 08 2014
UNGA books close, first and final dividend of 0.75
Dec 02 2014
LKL books close, final dividend of 1.20
Nov 21 2014
MyStocks Exclusive
•
Get the most out of myStocks by subscribing
•
Enjoy upto 7.5% discount on annual subscriptions
•
Real-time NSE Market Viewer
•
Level 2 market depth data
•
Historical charts & data
•
Sortable columns
•
Customizable views
•
Independent analysts' research
•
Company financials, ratios and fundamentals
•
Technical analysis trends and signals
| | | | |
| --- | --- | --- | --- |
| Feature Matrix | Standard | PRO | Corporate |
| Realtime quotes | | | |
| Level 2 market data | | | |
| Intraday charts | | | |
| Historic charts | | | |
| Financials & ratios | | | |
| Technical analysis | | | |
| Raw data download | | | |
Nairobi Securities Exchange Highlights —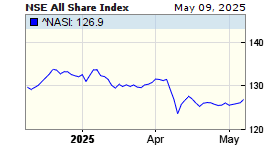 Safaricom in M-Pesa fuel rewards scheme
Participants are eligible for free talk time if they purchase fuel from outlets operated by Total Kenya, Vivo Kenya (Shell), Oil Libya, Kenol Kobil, Gulf Energy, Gulf Energy, Pima Gas Dealers, Hashi, Galana Oil (Delta Stations), National Oil, Engen
...

CoinDesk
What Bitcoin Can Learn From Mobile Money's Journey
The service's developer, Safaricom, understood that partnering with the Central Bank of Kenya (CBK) was paramount to its success and actively engaged regulators as part of its go-to-market strategy. Since nothing like mobile money had ever existed
...

Africa Outlook
Lake Turkana Wind Power Project nominated Power Deal of the Year in 2014
Earlier this month, the EUR 623-million project marked a significant milestone with financial close, making it the largest private investment in Kenya's history.
...
Potentially Africa's largest single wind power project to be constructed, Lake Turkana
...
Lake Turkana gets up to speed
Project Finance International
Standard Bank Africa wind farm
Africa Outlook
Professional investment tools custom tailored for you
Market data is the basis of any investment decision. Accurate and timely data is more valuable for the investor. Modern-day investors require more information than ever in order to make key investment decisions. Systems must respond rapidly with a flexible and robust infrastructure.
myStocks provides professionally compiled real-time price quotes and level 2 market depth data services for the Nairobi Securities Exchange. Our revolutionary real-time data analysis platform, never before seen in the Kenyan financial market, comprises pre-trade analysis, post-trade decision support, historical data analysis, market fundamentals and aggregated breaking news streams