myStocks | Quotes, Research, Analysis, Portfolio Valuation, News, Nairobi Securities Exchange

| | | |
| --- | --- | --- |
| | | |
Corporate Actions Outlook
CFC payment, final dividend of 5.20
Aug 13 2015
HFCK books close, final dividend of 0.65
Jul 31 2015
KNRE payment, first and final dividend of 0.70
Jul 31 2015
ARM books close, first and final dividend of 0.60
Jul 30 2015
NMG payment, final dividend of 7.50
Jul 30 2015
TPSE payment, final dividend of 1.35
Jul 29 2015
BAT announced, interim dividend of 3.50
Jul 24 2015
JUB payment, final dividend of 7.50
Jul 24 2015
HFCK announced, final dividend of 0.65
Jul 22 2015
BAMB payment, final dividend of 6.00
Jul 10 2015
BAMB payment, final dividend of 6.00
Jul 10 2015
BOC payment, final dividend of 3.00
Jun 30 2015
KAPC books close, final dividend of 5.00
Jun 30 2015
KUKZ payment, first and final dividend of 3.75
Jun 30 2015
WTK books close, final dividend of 40.00
Jun 30 2015
MyStocks Exclusive
•
Get the most out of myStocks by subscribing
•
Enjoy upto 7.5% discount on annual subscriptions
•
Real-time NSE Market Viewer
•
Level 2 market depth data
•
Historical charts & data
•
Sortable columns
•
Customizable views
•
Independent analysts' research
•
Company financials, ratios and fundamentals
•
Technical analysis trends and signals
| | | | |
| --- | --- | --- | --- |
| Feature Matrix | Standard | PRO | Corporate |
| Realtime quotes | | | |
| Level 2 market data | | | |
| Intraday charts | | | |
| Historic charts | | | |
| Financials & ratios | | | |
| Technical analysis | | | |
| Raw data download | | | |
Nairobi Securities Exchange Highlights —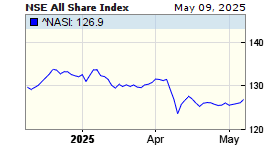 SDE Entertainment News
Kenyan 'Chamas' with sheria kali
Actually, chamas or small time investment groups, most of which began as 'merry-go-round' outfits have helped people to save, buy land, plots for building their homes and some chamas have become listed firms at the Nairobi Securities Exchange.

SDE Entertainment News
Parent appeals to Uhuru over Neno pastor car crash
But police officers who spoke to The Nairobian quietly wondered why Kenya's senior-most police officer had found it necessary to wade into matters related to a road accident. They felt that such matters should be felt the local traffic base commander.
Standard Chartered dominates global finance consumer digital bank awards in ...
...
this year's awards, Standard Chartered was awarded Best Consumer Digital Bank in 17 countries namely, Asia Pacific (Brunei, China, Hong Kong, Malaysia, Nepal, Pakistan, Singapore, South Korea), Africa & Middle East (Botswana, Ghana, Kenya, Nigeria
...
Professional investment tools custom tailored for you
Market data is the basis of any investment decision. Accurate and timely data is more valuable for the investor. Modern-day investors require more information than ever in order to make key investment decisions. Systems must respond rapidly with a flexible and robust infrastructure.
myStocks provides professionally compiled real-time price quotes and level 2 market depth data services for the Nairobi Securities Exchange. Our revolutionary real-time data analysis platform, never before seen in the Kenyan financial market, comprises pre-trade analysis, post-trade decision support, historical data analysis, market fundamentals and aggregated breaking news streams