myStocks | Quotes, Research, Analysis, Portfolio Valuation, News, Nairobi Securities Exchange

| | | |
| --- | --- | --- |
| | | |
Corporate Actions Outlook
KPLC payment, final dividend of 0.30
Feb 27 2015
CFC announced, final dividend of 5.20
Feb 26 2015
KCB announced, first and final dividend of 2.00
Feb 26 2015
LKL payment, final dividend of 1.20
Feb 21 2015
KEGN payment, final dividend of 0.40
Feb 20 2015
C&G books close, final dividend of 0.60
Feb 19 2015
SASN books close, final dividend of 0.25
Feb 19 2015
KPLC announced, interim dividend of 0.20
Feb 18 2015
EABL announced, interim dividend of 1.50
Feb 13 2015
CABL announced, final dividend of 0.50
Feb 11 2015
MyStocks Exclusive
•
Get the most out of myStocks by subscribing
•
Enjoy upto 7.5% discount on annual subscriptions
•
Real-time NSE Market Viewer
•
Level 2 market depth data
•
Historical charts & data
•
Sortable columns
•
Customizable views
•
Independent analysts' research
•
Company financials, ratios and fundamentals
•
Technical analysis trends and signals
| | | | |
| --- | --- | --- | --- |
| Feature Matrix | Standard | PRO | Corporate |
| Realtime quotes | | | |
| Level 2 market data | | | |
| Intraday charts | | | |
| Historic charts | | | |
| Financials & ratios | | | |
| Technical analysis | | | |
| Raw data download | | | |
Nairobi Securities Exchange Highlights —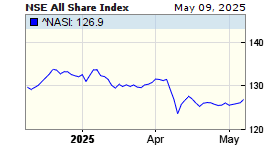 African Markets - Factors to watch on Feb 27
J which rose along with bullion prices, while British American Tobacco BATJ.J scaled new highs after reporting higher full-year earnings. KENYA MARKETS Kenya's shilling closed slightly firmer, with inflows of foreign exchange from tea sales and other
...
KENYA : Benson Wairegi leaves Britam
The managing director of the Kenyan financial services company Britam for the last 30 years, Benson Wairegi recently informed the firm's board that he would retire at the end of the year. Several names are circulating as possibilities for his replacement.
National Bank CEO fined Sh3.5m for contempt of court
Kenya: The National Bank of Kenya Chief Executive Officer Munir Sheikh Ahmed has been fined Sh3.5 million for contempt of court. Court of Appeal judges Wanjiru Karanja, John Mwera and Philomena Mwilu found Mr Ahmed in contempt of an order
...
Professional investment tools custom tailored for you
Market data is the basis of any investment decision. Accurate and timely data is more valuable for the investor. Modern-day investors require more information than ever in order to make key investment decisions. Systems must respond rapidly with a flexible and robust infrastructure.
myStocks provides professionally compiled real-time price quotes and level 2 market depth data services for the Nairobi Securities Exchange. Our revolutionary real-time data analysis platform, never before seen in the Kenyan financial market, comprises pre-trade analysis, post-trade decision support, historical data analysis, market fundamentals and aggregated breaking news streams