myStocks | Quotes, Research, Analysis, Portfolio Valuation, News, Nairobi Securities Exchange

| | | |
| --- | --- | --- |
| | | |
Corporate Actions Outlook
MyStocks Exclusive
•
Get the most out of myStocks by subscribing
•
Enjoy upto 7.5% discount on annual subscriptions
•
Real-time NSE Market Viewer
•
Level 2 market depth data
•
Historical charts & data
•
Sortable columns
•
Customizable views
•
Independent analysts' research
•
Company financials, ratios and fundamentals
•
Technical analysis trends and signals
| | | | |
| --- | --- | --- | --- |
| Feature Matrix | Standard | PRO | Corporate |
| Realtime quotes | | | |
| Level 2 market data | | | |
| Intraday charts | | | |
| Historic charts | | | |
| Financials & ratios | | | |
| Technical analysis | | | |
| Raw data download | | | |
Nairobi Securities Exchange Highlights —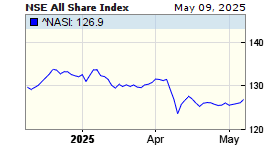 The Standard Digital News
Qatar Airways to increase flights on Doha – Dubai routes
Nairobi, Kenya: Qatar Airways has announced an increase in the number of flights on its Doha – Dubai routes. As a result, the airline will fly to Dubai International Airport 14 times a day and four times to Dubai World Central Al Maktoum International
...

The Standard Digital News
Rugby: KCB set to retain sevens circuit title
With only one leg left to the end of this year's Safaricom National Sevens Circuit, Kenya Commercial Bank are poised to retain title. Christies Sevens goes down this weekend in Nairobi and the bankers are leaving nothing to chance. They reached
...
Sin Weekend Hits Nakuru Hard During Prinsloo Rugby Event, As Prophet Owuor ...
AllAfrica.com
KCB retain Prinsloo 7s title on Safaricom Sevens Series with victory over ...
Ultimate Rugby Sevens (UR7s)
Treasury now pushes for more tax reforms
Kenya: National Treasury is in the final stages of drafting a new Excise Duty Bill that will ease tax collection across the country. The Bill to be taken to Parliament for discussion and enactment will simplify how excise duty is applied by
...
Professional investment tools custom tailored for you
Market data is the basis of any investment decision. Accurate and timely data is more valuable for the investor. Modern-day investors require more information than ever in order to make key investment decisions. Systems must respond rapidly with a flexible and robust infrastructure.
myStocks provides professionally compiled real-time price quotes and level 2 market depth data services for the Nairobi Securities Exchange. Our revolutionary real-time data analysis platform, never before seen in the Kenyan financial market, comprises pre-trade analysis, post-trade decision support, historical data analysis, market fundamentals and aggregated breaking news streams
Real-time data by
Synergy Systems Ltd
, Licensed Data Vendor of the Nairobi Securities Exchange.
Copyright © 2007-14,
Synergy Systems Ltd
. All Rights Reserved.
6
th
Floor, Phoenix House, Kenyatta Avenue.
P. O. Box 5820 - 00100 (GPO), Nairobi.
Tel:
+254 20 2113163