myStocks | Quotes, Research, Analysis, Portfolio Valuation, News, Nairobi Securities Exchange

| | | |
| --- | --- | --- |
| | | |
Corporate Actions Outlook
MyStocks Exclusive
•
Get the most out of myStocks by subscribing
•
Enjoy upto 7.5% discount on annual subscriptions
•
Real-time NSE Market Viewer
•
Level 2 market depth data
•
Historical charts & data
•
Sortable columns
•
Customizable views
•
Independent analysts' research
•
Company financials, ratios and fundamentals
•
Technical analysis trends and signals
| | | | |
| --- | --- | --- | --- |
| Feature Matrix | Standard | PRO | Corporate |
| Realtime quotes | | | |
| Level 2 market data | | | |
| Intraday charts | | | |
| Historic charts | | | |
| Financials & ratios | | | |
| Technical analysis | | | |
| Raw data download | | | |
Nairobi Securities Exchange Highlights —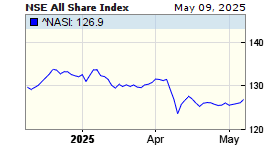 MSNBC
This is the next Hobby Lobby
The Obama administration has a plan in place to cover women like Miller, who want access to effective but expensive forms of contraception like the IUD but who are insured through institutions that oppose it.
...
That infuriated the female justices
...
Kenya's 182-day T-bills yield slips at auction- central bank
NAIROBI, July 30 (Reuters) - The yield on Kenya's 182-day Treasury bills slipped to 9.296 percent at auction on Wednesday from 10.060 percent last week, the central bank said. The yield on 364-day bills was unchanged from last week at 10.330 percent.

Yahoo News UK
Insight - Mobile money grows in Africa but hurdles remain
Since the launch of M-Pesa by Kenya's Safaricom in 2007, operators have rolled out mobile money services in several African countries to cater for millions of people who lack affordable bank accounts. Operators, regulators and experts alike are excited
...
Professional investment tools custom tailored for you
Market data is the basis of any investment decision. Accurate and timely data is more valuable for the investor. Modern-day investors require more information than ever in order to make key investment decisions. Systems must respond rapidly with a flexible and robust infrastructure.
myStocks provides professionally compiled real-time price quotes and level 2 market depth data services for the Nairobi Securities Exchange. Our revolutionary real-time data analysis platform, never before seen in the Kenyan financial market, comprises pre-trade analysis, post-trade decision support, historical data analysis, market fundamentals and aggregated breaking news streams
Real-time data by
Synergy Systems Ltd
, Licensed Data Vendor of the Nairobi Securities Exchange.
Copyright © 2007-14,
Synergy Systems Ltd
. All Rights Reserved.
6
th
Floor, Phoenix House, Kenyatta Avenue.
P. O. Box 5820 - 00100 (GPO), Nairobi.
Tel:
+254 20 2113163