myStocks | Quotes, Research, Analysis, Portfolio Valuation, News, Nairobi Securities Exchange

| | | |
| --- | --- | --- |
| | | |
Corporate Actions Outlook
CARB books close, final dividend of 0.30
Nov 10 2014
BOC payment, interim dividend of 2.20
Oct 30 2014
CFC payment, interim dividend of 0.95
Oct 30 2014
KEGN announced, final dividend of 0.40
Oct 24 2014
KPLC announced, final dividend of 0.30
Oct 22 2014
CARB announced, final dividend of 0.30
Oct 17 2014
OCH books close, first and final dividend of 0.25
Oct 17 2014
CABL announced, interim dividend of 0.50
Oct 15 2014
BAMB payment, interim dividend of 6.00
Oct 10 2014
JUB payment, interim dividend of 1.00
Oct 07 2014
NMG payment, interim dividend of 2.50
Sep 30 2014
NMG payment, interim dividend of 2.50
Sep 30 2014
MyStocks Exclusive
•
Get the most out of myStocks by subscribing
•
Enjoy upto 7.5% discount on annual subscriptions
•
Real-time NSE Market Viewer
•
Level 2 market depth data
•
Historical charts & data
•
Sortable columns
•
Customizable views
•
Independent analysts' research
•
Company financials, ratios and fundamentals
•
Technical analysis trends and signals
| | | | |
| --- | --- | --- | --- |
| Feature Matrix | Standard | PRO | Corporate |
| Realtime quotes | | | |
| Level 2 market data | | | |
| Intraday charts | | | |
| Historic charts | | | |
| Financials & ratios | | | |
| Technical analysis | | | |
| Raw data download | | | |
Nairobi Securities Exchange Highlights —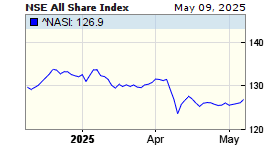 Business Recorder
POLL-Kenya's central bank to leave rates on hold until Q2 2015
JOHANNESBURG/BANGALORE, Oct 30 (Reuters) - Kenya's central bank is likely to put off raising interest rates until the second quarter of next year as tumbling oil prices keep a lid on inflation, a Reuters poll found. All but one of 14 economists
...
Kenyan shilling holds steady, bond flows still help
Business Recorder
Kenya's Equity Bank posts 25 pct jump in 9-month pretax profit
NAIROBI Oct 30 (Reuters) - Kenya's Equity Bank Group reported on Thursday a 25 percent jump in pretax profits for the first nine months of the year, citing growth in non-interest income and a drop in provisions for bad debts. Equity, which focuses on
...

Capital FM Kenya
Kenyan youths enterprising, given right tools – survey
NAIROBI, Kenya, Oct 30 – If given Sh8,500 ($100) to help them prosper, 63 percent of the youths aged between 18 to 35 years in Kenya would invest the money. This is according to a new Barclays Africa Prosper Report which also
...
Commenting on the
...
Professional investment tools custom tailored for you
Market data is the basis of any investment decision. Accurate and timely data is more valuable for the investor. Modern-day investors require more information than ever in order to make key investment decisions. Systems must respond rapidly with a flexible and robust infrastructure.
myStocks provides professionally compiled real-time price quotes and level 2 market depth data services for the Nairobi Securities Exchange. Our revolutionary real-time data analysis platform, never before seen in the Kenyan financial market, comprises pre-trade analysis, post-trade decision support, historical data analysis, market fundamentals and aggregated breaking news streams
Real-time data by
Synergy Systems Ltd
, Licensed Data Vendor of the Nairobi Securities Exchange.
Copyright © 2007-14,
Synergy Systems Ltd
. All Rights Reserved.
6
th
Floor, Phoenix House, Kenyatta Avenue.
P. O. Box 5820 - 00100 (GPO), Nairobi.
Tel:
+254 20 2113163