myStocks | Quotes, Research, Analysis, Portfolio Valuation, News, Nairobi Securities Exchange

| | | |
| --- | --- | --- |
| | | |
Corporate Actions Outlook
MyStocks Exclusive
•
Get the most out of myStocks by subscribing
•
Enjoy upto 7.5% discount on annual subscriptions
•
Real-time NSE Market Viewer
•
Level 2 market depth data
•
Historical charts & data
•
Sortable columns
•
Customizable views
•
Independent analysts' research
•
Company financials, ratios and fundamentals
•
Technical analysis trends and signals
| | | | |
| --- | --- | --- | --- |
| Feature Matrix | Standard | PRO | Corporate |
| Realtime quotes | | | |
| Level 2 market data | | | |
| Intraday charts | | | |
| Historic charts | | | |
| Financials & ratios | | | |
| Technical analysis | | | |
| Raw data download | | | |
Nairobi Securities Exchange Highlights —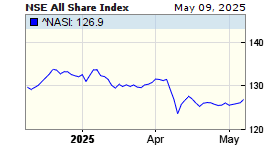 The Standard Digital News (satire) (press release) (registration) (blog)
Over 65 per cent of manufacturing firms in Kenya don't survive
The worrying statistics are contained in a new World Bank report titled "Anchoring High Growth Can Manufacturing Contribute More World Bank Country Director Diarietou Gaye delivers a speech during the report launch.
...
A weak business environment is
...

Capital FM Kenya (press release) (subscription) (blog)
KenGen Rights Issue pushed from June to August
The Rights Issue is targeted at financing new projects comprising mainly a mix of geothermal and wind energy to boost KenGen's power generation capacity in the next three years to increase its power output to 3,000MW by 2018 from the current 1,239 MW.
Professional investment tools custom tailored for you
Market data is the basis of any investment decision. Accurate and timely data is more valuable for the investor. Modern-day investors require more information than ever in order to make key investment decisions. Systems must respond rapidly with a flexible and robust infrastructure.
myStocks provides professionally compiled real-time price quotes and level 2 market depth data services for the Nairobi Securities Exchange. Our revolutionary real-time data analysis platform, never before seen in the Kenyan financial market, comprises pre-trade analysis, post-trade decision support, historical data analysis, market fundamentals and aggregated breaking news streams