myStocks | Quotes, Research, Analysis, Portfolio Valuation, News, Nairobi Securities Exchange

| | | |
| --- | --- | --- |
| | | |
Corporate Actions Outlook
BAT books close, interim dividend of 3.50
Aug 11 2014
HFCK books close, interim dividend of 0.75
Aug 01 2014
LKL payment, interim dividend of 0.80
Jul 31 2014
LKL payment, interim dividend of 0.80
Jul 31 2014
NMG payment, final dividend of 7.50
Jul 30 2014
ARM books close, first and final dividend of 0.60
Jul 18 2014
CIC payment, first and final dividend of 0.10
Jul 18 2014
HFCK announced, interim dividend of 0.75
Jul 17 2014
JUB payment, final dividend of 6.00
Jul 14 2014
BAMB payment, final dividend of 9.00
Jul 11 2014
BAT announced, interim dividend of 3.50
Jul 10 2014
FIRE payment, first and final dividend of 0.30
Jul 08 2014
BAMB books close, interim dividend of 6.00
Jul 04 2014
PAFR payment, first and final dividend of 4.50
Jul 02 2014
MyStocks Exclusive
•
Get the most out of myStocks by subscribing
•
Enjoy upto 7.5% discount on annual subscriptions
•
Real-time NSE Market Viewer
•
Level 2 market depth data
•
Historical charts & data
•
Sortable columns
•
Customizable views
•
Independent analysts' research
•
Company financials, ratios and fundamentals
•
Technical analysis trends and signals
| | | | |
| --- | --- | --- | --- |
| Feature Matrix | Standard | PRO | Corporate |
| Realtime quotes | | | |
| Level 2 market data | | | |
| Intraday charts | | | |
| Historic charts | | | |
| Financials & ratios | | | |
| Technical analysis | | | |
| Raw data download | | | |
Nairobi Securities Exchange Highlights —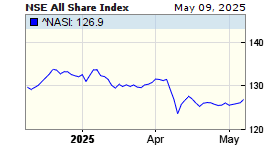 Inflation rate maintains upward momentum, jumps to 7.67pc
According to figures released by the Kenya National Bureau of Statistics (KNBS) yesterday, the 0.5 per cent month on month increase broke the Central Bank's 7.5 per cent ceiling and analysts are cautioning that things could get worse. This was despite
...

The Economist
Barack Obama's ambitions for Africa will be a measure of American engagement ...
It enjoys more latent goodwill than ex-imperial Europe (Nelson Mandela said that the election of Mr Obama, the son of a Kenyan economist, was proof that people everywhere should "dare to dream").
...
American investments come with promises to obey
...
Will 'Power Africa' Help Grow Sustainable Energy?
AllAfrica.com
Kenyan Media: Self-Censorship or Common Sense?
Macharia Gaitho, a senior editor at Kenya's Nation Media Group, argued that the broadcasters' decision amounted to self-censorship. "It was a wrong decision," he told IWPR. "It is the right of editors to make decisions but they also have to check the
...
Professional investment tools custom tailored for you
Market data is the basis of any investment decision. Accurate and timely data is more valuable for the investor. Modern-day investors require more information than ever in order to make key investment decisions. Systems must respond rapidly with a flexible and robust infrastructure.
myStocks provides professionally compiled real-time price quotes and level 2 market depth data services for the Nairobi Securities Exchange. Our revolutionary real-time data analysis platform, never before seen in the Kenyan financial market, comprises pre-trade analysis, post-trade decision support, historical data analysis, market fundamentals and aggregated breaking news streams
Real-time data by
Synergy Systems Ltd
, Licensed Data Vendor of the Nairobi Securities Exchange.
Copyright © 2007-14,
Synergy Systems Ltd
. All Rights Reserved.
6
th
Floor, Phoenix House, Kenyatta Avenue.
P. O. Box 5820 - 00100 (GPO), Nairobi.
Tel:
+254 20 2113163