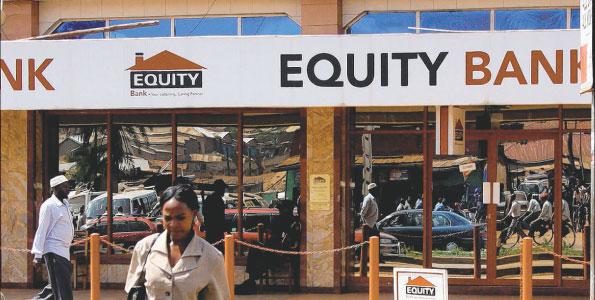 At the turn of the century, Equity building society had 18,000 borrowers, 12 branches and some 190 members of staff. It had the marks of an obscure mortgage financing firm with no great future and nothing to its name.
16 years later, Equity Bank , the successor of the building society is the largest bank by customer deposits at 9 million customers. It has assets worth over 300 billion and is a blue chip at the Nairobi Stock Exchange. Further, it has 6000 members of staff in over 180 branches. It has also broadened its customer service channels to include ATM machines, mobile banking, internet banking and agency banking. In 2016, it was declared the best bank in the world on Return on Assets for the second year running by The Banker.
What makes the brown bank tick?
The bank's strength did not come from excess capital or a wide market share, it came from its strategy. The current MD literary changed the bank and the whole sector at large in 1994. The strategy to go for the bottom of the pyramid clients meant that the bank could access the untapped market of millions of unbanked Kenyans. The bank attracted farmers, hawkers, traders, blue collar workers, whole cooperative societies, matatu operators, etc. Anybody who could not raise the opening balance at the bigger banks ran to equity bank. It paid off.
Around 10 years ago, they made it so easy to open an account with Equity bank. The joke of the town at that time was that it was easier to open an account with Equity Bank than to open one with Google mail (gmail). Given the success of the strategy, other banks have adopted equity's model and have reduced opening balance in their accounts, made it easier to open and operate accounts and brought their branches closer to people.
In 2006, the bank was delivering 3 or 4 billion worth of profits. A few weeks back when it delivered its annual report, Equity bank had delivered over 24 billion worth of profit before tax. The growth is exponential.
Does the bank have an Achilles heel?
Go into any equity bank branch and if you are used to being served by the multinational banks around, you will soon notice the problem. Given the large of number of people being served at equity bank, its customer service standards are perhaps the worst in the industry. Staff members are unfriendly, have no time for clients and look overwhelmed. The caring and listening financial partner no longer empathises.
The third largest bank in the world Wells Fargo, had a retreat with its senior managers some time back. They had a crisis and they needed solutions quick; they were losing market share. The consultant they hired to determine why they losing market share told them that the reason for the loss is because the bank lost its human side, became engrossed in figures and forgot to care for its people. The bank lost about 38% of its market share.
Wells Fargo had a winning strategy, roped in many people and it became harder to serve all those people. In the process, they lost touch and became robotic. To solve their problems, the bank did what any organisation would do in the face of capacity challenges; they invested in technology. From account opening, to deposits, borrowing to account closing, you could do business with Wells Fargo for 5 years without meeting any of their agents. Turns out, people don't like machines that much.
With Equitel in its arsenal, Equity bank is capable of leveraging on technology to meet its clients' needs. Today one has the choice of mobile banking, internet banking and agency banking. It is no longer necessary to go to a branch. Further, the bank has officially declared that its strategy for growth in the future is technology. However, if the Wells Fargo story is anything to go by, they might want to consider tampering technology with a serious customer service overhaul.
Equity's competitors are keenly eyeing its market share. KCB is strong on technology and has more assets. But it also has its customer service woes trying to wriggle itself free from the tag of a government bank. Cooperative bank is the next best option. The latter's problem is their lack of aggressive work ethic. They have a confidence in their saccos and it seems to create a lethargy for an aggressive marketing campaign.
The greatest threat to Equity Bank is not the new law nor is it the two biggest competitors rather it is its poor customer service. The day one of these smaller banks with a great work ethic and sterling customer service will get some capital injection and a forward looking manager, Equity Bank might have the experience of Wells Fargo.
All in all, 24 billion is great value for money. When your only disadvantage is your size, then you really are big. The bank is still a strong investment destination.