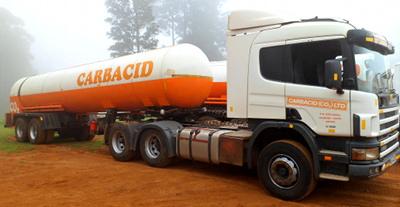 Performance
Carbacid released its mid year results to January 2014. The manufacturer produced a profit of 235 compared to 264 in the first half of last financial year, a 10.98% decline. Management attributes this slump to lower demand from the Southern Africa markets, high costs of electricity and the new mining royalty laws. Turnover dropped to 474 million from 574 the previous period.
The company announced an interim dividend of 0.40 per share.
The drop is a bad signal for a company which has reported sterling performance in the recent past. Given there was no significant change in cost of electricity and that the mining laws came into force late into the year the only significant cause to the slump in profits could be the negative market forces from Southern Africa.
The company supplies its products to businesses in Kenya, Somaliland, South Sudan, Ethiopia, Uganda, Tanzania, Zambia and Malawi with Kenya being the largest market. While it is notable that the South African demand dropped, the question is - is the South African market's contribution large enough to cause an 11% drop in profits irrespective of all the other markets?
The Carbacid results don't pass the acid test!
Risk Profile
From the released results, the business is highly affected by market risks. as a producer of a manufacturing input, the company depends on the value chain performance.
The controversial share split late last year revealed a company with managerial confusion bringing forth managerial risks.
Market and Industry Dynamics
Carbacid is the market leader in producing compressed food quality CO2. The other major player in that market is BOC Gases . Carbacid is well established in the market and has the necessary licensing to supply the local bottlers.
However, competition is growing locally and regionally and the company is at the valley of decision; carry on or redefine.
Stock market performance
The market did not receive the news warmly and the counter closed the day on Wednesday 19th at KES 37.50 down from the 38 it opened the week with.
The company had a controversial share split last year and a successful bonus share issue, making it attractive to many investors. I wouldn't dispose of my shares in Carbacid but am not selling either.