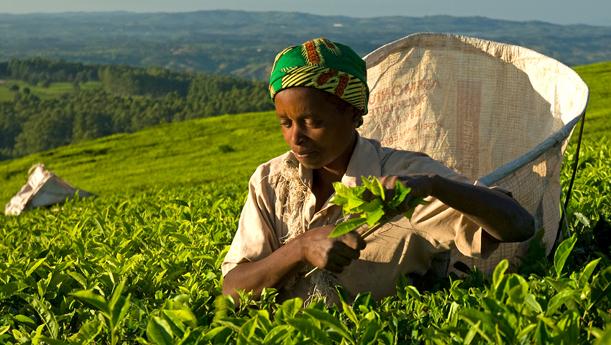 When the Kenya Tea Development Agency (KTDA) recently announced that it would not pay the mini-bonus because of poor prices caused by oversupply, it came as no surprise as average tea prices have slipped 20.7% from KES 217.7 per kilogram to KES 269.4 per kilogram. Average local tea production has increased by 17% to 432.4 million tonnes in the same period. In 2013, 4.8 billion kilograms of tea were produced globally against consumption of 4.6 billion, creating a surplus of 200 million kilograms which spilled over to the current year hence destabilising tea prices. As a result, several listed tea firms are now expected to post weak results.
Kapchorua Tea which fell 4% to KES 144 as soon as it issued its profit warning last month expects its profits for the year ending March 31st 2014 to decline to at least KES 134 million based on its 2013 full year results. Drop in earnings is largely expected from a combination of lower revaluation of biological assets and reduced tea auction prices. On the other hand, Limuru Tea posted a 72% reduction of its pre-tax profits to KES 41.6 million in 2013. Total revenues for the last year dropped by 10% to KES 104 million from KES 116 million recorded the year prior. Despite the weak performance, its market price has remained unmoved at KES 620. While Williamson Tea and Sasini Tea & Coffee have yet to post their annual numbers, the former has had a sudden drop of 8.6% to KES 265 perhaps a reflection of impending weak results while the later has barely moved at KES 17.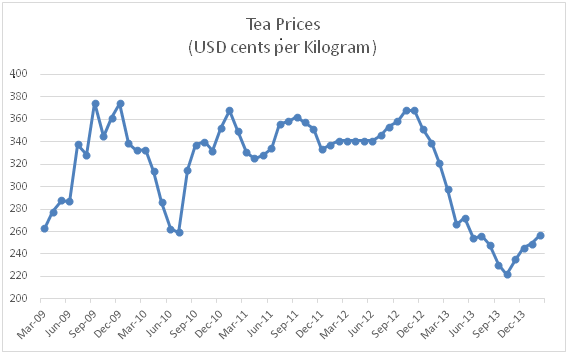 Despite the flagging tea market - overall tea prices are currently trading down 27.9% from their 2011 highs - and the ensuing poor results, what's noteworthy about these stocks is their unusual price strength as seen over last couple of years. While compounded annual growth rates of auction tea prices have averaged at a negative 1.79% in the past four years, stock prices these listed tea firms have posted impressive positive returns. Limuru Tea leads the pack with a compounded growth rate of 19.4% followed by Williamson Tea with a 17.8% return. Sasini Tea & Coffee and Williamson Tea each grow at an average of 14.24% and 7.24% respectively. At the same time, NSE 20Share Index returns 10.6%. This simply means the sector managed to outperform the market average.
Year to date performances are also outstanding. Kapchorua is up 15.2% while Sasini and Williamson stand at 17.95% and 6% respectively. In the case for Kapchorua, while we may continue to see a bit more selling in the coming days, the bulk of it has happened in the month of March. Strong support is at KES 125, so if the price stays above that this, any price drop looks to be a buying opportunity. On the other hand, a decline below this support, investors should hold off initiating any positions. Nonetheless, technically the stock is largely in a bullish position with an oversold Relative Strength Index (RSI) which signals a limited downside ahead and that an upturn could be in the offing.
After rebounding off of its upper trend line for much of February and early part of last month, Sasini is poised to move higher and therefore presents an immediate buy signal. Such a move is likely to trigger continued sizable movements on the upside over the coming weeks. A continued push above the high at KES 18 is likely to spur continued short-term buying into the KES 19.70. Limuru Tea is also set to gradually inch upwards despite posting daily volumes below the 10K mark. The violation of a major support at KES 267 in Williamson signals an exit. Overall, investors can find multiple opportunities within these stocks to exploit the trends they present notwithstanding the short term weak results.