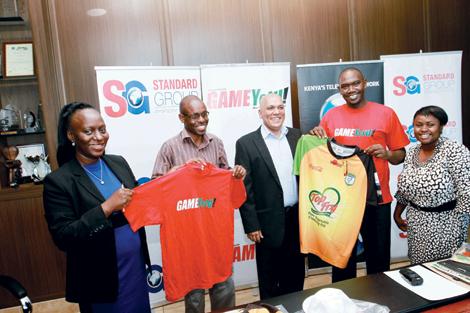 The Standard Group announced its results for the year ending 2013 seeing a 33% rise in turnover to KES 4.8 billion from KES 3.6 billion realised in 2012. Circulation revenue grew by 6% while print advertising recorded a 41% growth over the previous year. TV advertising revenue grew by 72% in the year. The group managed to record a rise in profits before tax to KES 301 million from KES 265 million in 2012, or an equivalent of 13%.
Despite the profitability reported in the past twelve months, a look at the last six years reveals a different performance picture characterized by declining profitability with both operational cash flows and profits before tax climbing down 11.2% and 29.8% respectively. While sales have improved by 70.9% since 2008, debt ratios have declined to 16.6% from 31.4% in the same period and rising operational costs have steadily eaten into the firm's profits. Dividends for 2013 were declared at KES 0.50 after a two-year break. EPS now stands at KES 2.41.
The group has embarked on revamping its product offering in most of its media platforms since the departure of its former CEO, Paul Melly. Revised management structures have seen significant changes in its senior management. The new CEO has embarked on a number of initiatives aimed at reversing poor performance; these include revamping its TV content and launching a daily county newspaper - The Nairobian.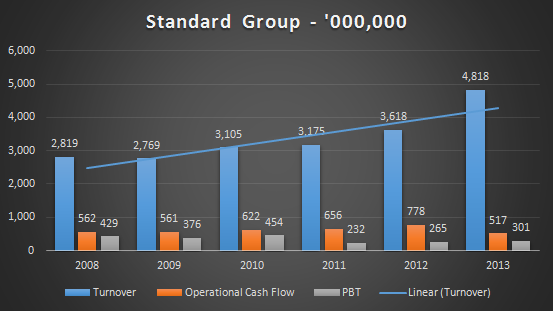 Challenges
The planned migration from current analogue free-to-air TV to digital TV is set to pose growth challenges for the firm. It is expected that the switch off could erode revenues for broadcasting stations and cut backs from advertisers. The size of TV audiences in Nairobi alone is expected to drop between 25%-30% due to this.
Introduction of 16% VAT on printing materials late last year could inflate its printing costs.
High costs of set top boxes could mean decline in TV viewership and hence reduced advertising spend.
Growth of newspaper segment may be constrained in the near term by the high proportion of the population living in rural areas, where distribution of both digital and physical content will remain a challenge.
Opportunities
County government structures are expected to provide more business opportunities and can be exploited to grow business.
Projected growth of economy at 5% this year is expected to increase more business opportunities.
According to a PWC report - Kenyan entertainment and media outlook: 2013 - 2017, advertising revenue is projected to growth to USD 184 million in 2017 from USD 136 million in 2012. The report also projects circulation revenues to grow a slower rate at a CAGR of 3.6% while digital advertising revenue is set to grow to USD to 9 million in 2017.
Growth in its outdoor advertising and magazines distribution segment is also showing improvement.
Conclusion
P/E ratio stands at 7 making it a cheap valuation. However investors are advised to keep in mind that returns in the past six years have yielded a negative 42.8% when the NSE 20 Index returned 33.5% in the same period owing to poor fundamentals. Choppy price movements as a result of its illiquidity also poses a challenge to its tradability. The firm has 81 million shares in issue.